About

華蔵KAGURAについて
神社の宮司が提供する宿
Lodging Run By A Shinto Priestess
日本には宿坊は数あれど、神社の神主が案内する宿はまだまだ珍しいと思います。華蔵KAGURAは宮司が空き家をリフォームした民泊施設です。
地域の神社や日本の文化を感じられる体験プログラムもあります。
In Japan there are a number of lodgings run by buddhist monks, but lodgings run by Shinto priests and priestesses are still rather unheard of. Kagura is one of these rare lodgings and is owned and operated by a Shinto Priestess who rehabilitated an empty home in rural Japan, and this unique lodging offers a program that brings together an experience that provides visitors with the chance to fully immerse themselves in both local shrine and Japanese culture.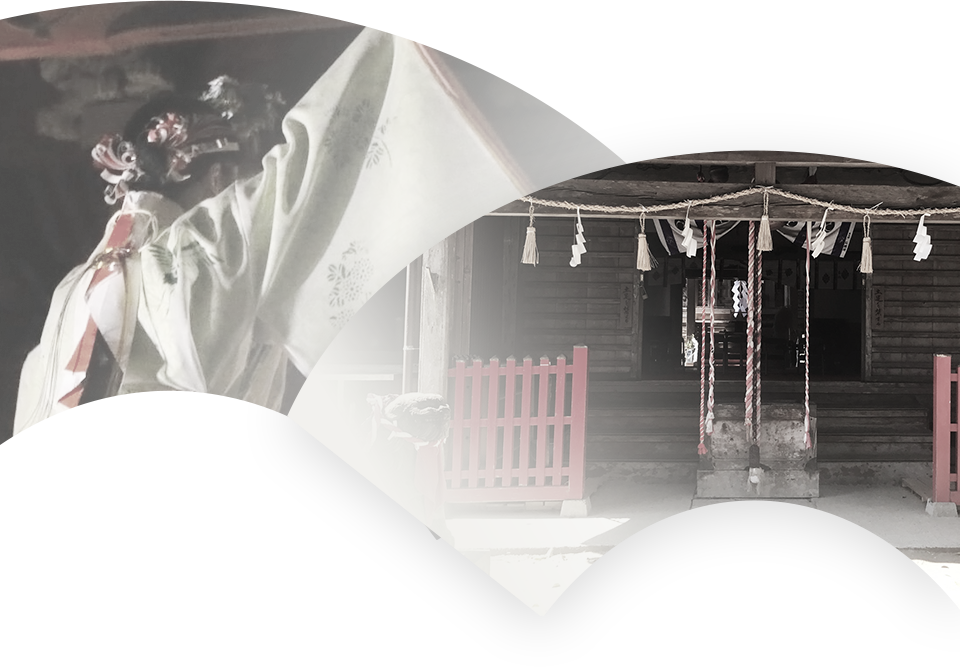 一棟を貸し切り 心のまま羽を伸ばせます
A Lodging That Offers A Chance To Unwind
部屋は一般的な日本家屋である和室が2室(8畳、6畳)、洋室が2室(シングル2台、ダブル1台)があります。トイレは2か所で、バス・トイレ別です。
浴槽は親子でも入れるよう広めになっています。
家の造りや家具などはそのまま残しているので、どこか懐かしい雰囲気を感じられるでしょう。
庭の景観も良く、後ろには敷地があるので子供たちが走り回ることもできます。
またBBQやピザ作りなどもできますので家族や仲間、同僚の方々など皆さまご一緒にお楽しみください。
Kagura is a standard Japanese lodging with two Japanese style rooms (one room consisting of 8 tatami floor mats, and one room with 6 tatami mats). In addition to the Japanese style rooms, there are also two Western style rooms with two single beds and one double bed.
Our facilities are also equipped with two toilets, and the bathroom and toilet are seperate.
The baths at our facility are very spacious, and are able to accommodate both parents and children.
At Kagura, guests are also able to enjoy BBQ cookouts, pizza, and a variety of other meals which is sure to make for an enjoyable stay that's suitable for families, friends, and even co-workers.
基本情報
Pricing and Lodging
一棟貸し切り30000円(税込)~
料金は一泊一棟のものです。6名様まで一律30,000円(税込)で、7名様から1名につき2,000円(税込)の追加となります。
宿泊していただける人数は最大10名様までです。
また、一棟貸し切りですので他のお客様と顔を合わせることがありません。
The cost for lodging per night is 30,000 yen, and remains the same for up to six guests. However, an additional 2,000 yen will be charged per guest beyond six guests.
The maximum number of guests allowed per stay is 10 guests.
Since our facility is a privately owned home, you will not have to worry about sharing your staying with other people you do not know as you normally would in a hotel.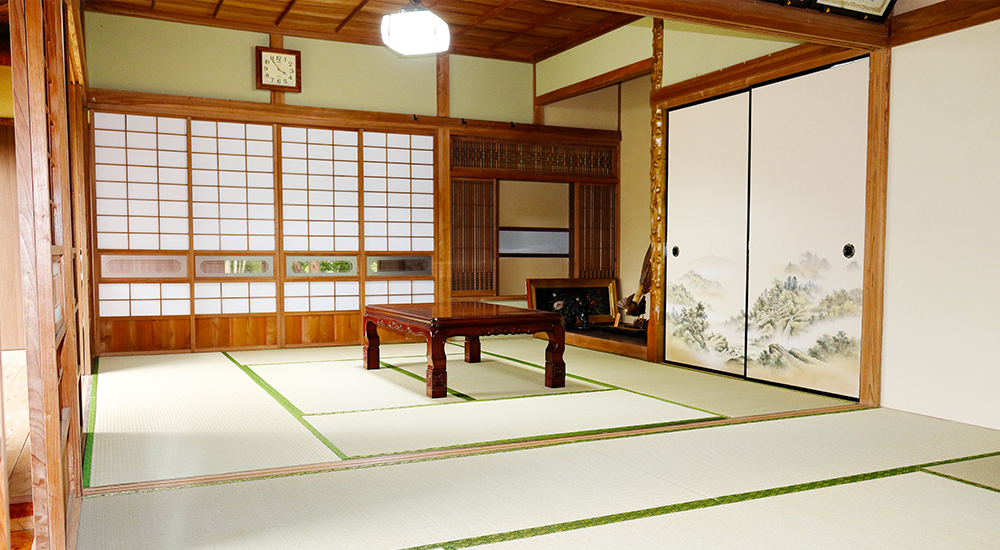 Experience

神事・日本文化に触れる体験プラン

季節ごとにある地域の祭りや、季節に合わせたモノ作り、茶道や投扇興などを体験できるプログラムです。内容の組み合わせにつきましてはご相談ください。

Experience Shinto And Experience Japanese Culture First Hand
Every season throughout the various regions of Japan offer their own unique festivals and products. We offer a program that gives people the chance to experience activities such as tea ceremonies that coincide with the unique seasonal offerings and festivals in the surrounding area. Please let us know what interests you, and how we can put together a program that is tailored to your interests.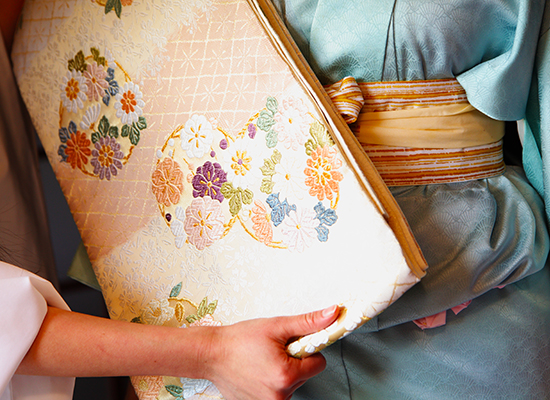 神社巡り参拝ツアー
(和装体験付き)
Shrine Tour (In A Traditional Japanese Kimono)
おすすめポイント
Recommended points
お好きな着物、帯、カバン、草履を選んでください。着付けいたします。お客様ごとにご希望に沿った神社、ツアー内容をご紹介いたします。近くには古い神社が多いので、タイムスリップしたかのような時間をご体験いただけるでしょう。神社巡りは2~3時間を予定しております。
和装レンタルは18時まで。ツアー終了後も和装でお出かけください。
We offer our guests the chance to tour shrines in full traditional Japanese attire which includes your favorite choice of kimono, sandals, obi (belt), and handbag. We are also able to tailor these tours based on the requests of our visitors.
Our two to three hour shrine tour will feel like a trip back in time as the shrines in our area are very old, and have remained untouched by time since these shrines were first built.
We offer the chance to wear traditional Japanese kimonos, obi sandals while on this tour, and rental for traditional Japanese attire is available till 6:00 p.m. However, we hope you enjoy wearing the Japanese clothes even after the tour is over.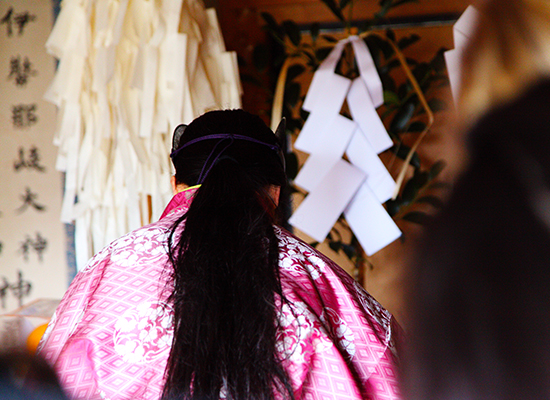 日暮れ体験
Nightfall experience
おすすめポイント
Recommended points
午後3時頃より神楽舞、神社の作法の知識に触れていただきます。
夕暮れ時に家之子八幡神社にてお祓いをし、お参りの後、神楽舞を体験。お祓いの詞は先に写詞してもらい、一緒に奏上していただきます。
神様と共に幽玄のひと時を味わってください。
Shinto Event Held At Nightfall ※We will try to arrange this around your visit so you get the chance to enjoy this unique aspect of Japanese culture.
In the evening, Shinto rituals are held at Hachiman Shrine, and after worship, visitors can experience traditional Shinto song and dance. Visitors will be provided with a copy of the lyrics to these songs, and are able to join us in singing these traditional shinto chants.
Please enjoy this one of a kind experience that allows you take part of the mystic of Shinto.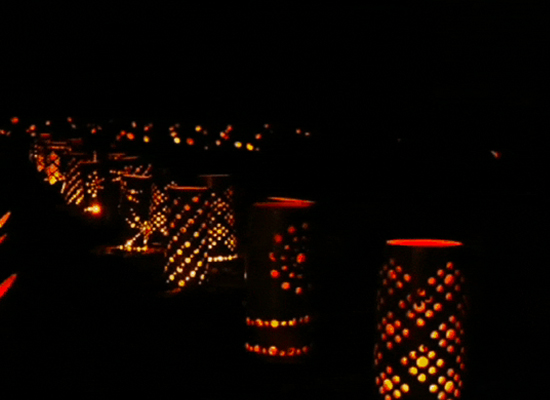 竹灯籠の製作体験
Create Bamboo Lanterns
おすすめポイント
Recommended points
近隣の竹を有効活用し、ドリルで穴をあけ灯籠にします。また月灯りという竹提灯も作製可能です。竹林を綺麗にするのにも一役買います。
デザインは自由なのでお好きなように作ってください。時間の許す限りいくつ作製していただいても結構です(簡単なデザインペーパーもご用意しております)。
竹灯籠は日が暮れてから家之子八幡神社のご神前にてお祓いをし、灯りをともして神様に捧げます。作製した竹灯籠はお土産にお持ち帰りください。
また、八坂神社の竹灯籠まつりなど、使用できるまで神社のお祭用に奉納していただくことも可能です。
Create lanterns using bamboo taken from the local area. In addition to the standard bamboo lantern that guests can make, there is also a very special type of lantern that we call, "Moonlight" that people can make as well. By using the bamboo from the surrounding area we are also able to help clear out and manage the bamboo near our facility.
Guests are free to make the lanterns with whatever design they would like (we can also provide a simple design upon request), and are allowed to make as many lanterns as they like and are only limited by the time available to do so.
Each day we gather the lanterns made and present them to the gods of light at Hachiman Shrine to be blessed. Afterwards our guests are free take these lanterns home as souvenirs.
These lanterns may also be used for the lantern festival that is held at Hachiman Shrine.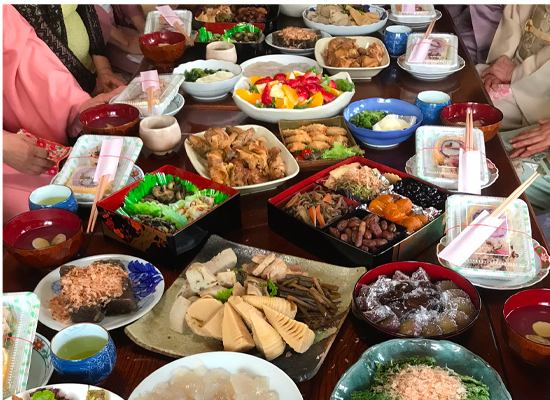 四季の事物を利用した郷土料理体験
Enjoy Cooking Seasonal Foods With The Local Residents.
おすすめポイント
Recommended points
旬のものを使い、近隣の方々と共に郷土料理を作ります。
東金の郷土料理と言えば太巻き寿司。金太郎あめのように切り口が絵になっているお寿司です。
旬のものを取り入れることで心身の健康にもつながります。
お料理の上手な方ばかりですので、普段の料理のコツも聞けるかもしれません。
地元の方と楽しくお料理してください。
When it comes to the local food that Togane is known for, many residents in the area are likely to say it's the sushi roll, and these rolls are decorated with the image of the legendary Japanese folklore character Kintaro.
The food made by the locals is also healthy, and many of them are quite good at cooking, but they often say their cooking is, "average." But don't be fooled, their cooking is very good.
We hope you will have the chance to enjoy cooking with them!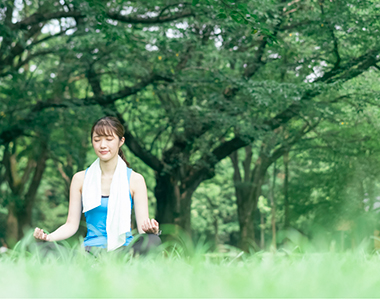 ご神木でのヨガ体験
Experience Yoga Under A Sacred Tree
おすすめポイント
Recommended points
神社でのヨガを体験するプログラムです。季節、時間帯によりご神木の下で行うことも可能です。寒い時期や雨の日などは、社務所にて行います。
はじめに神社のお掃除をし、ヨガで体を整えたのち、ご神前にてお祓いをいたします。
気持ちの良い一日のスタートにどうぞ。
Depending on the season and the time of the year, Kagura is able to provide guests a yoga program under a sacred tree. On days when it is too cold or there is unfavorable weather, we are able to offer this yoga program at our office.
We hope that you start your day out right with our yoga program.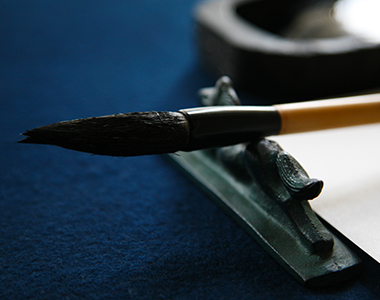 漢字の名前贈呈
(外国籍のお客様限定)
Chinese Character Name Plate Gift (Limited to Foreign Guests Only)
おすすめポイント
Recommended points
宿泊者の性格や想いを聞いて、その方に相応しい漢字を充てたお名前もしくは日本名をお付けいたします。画数まで考慮し、縁起の良いお名前を付与。
お名前はイメージに合った色紙にお書きし、いつでも思い出せるよう意味合いも添えます。
名は体を表す。
お客様の幸が益々広がりますように。
For our foreign guests we are able to provide a Japanese name using Chinese characters based on the character and suggestions of our guests. This name card will arrange the calligraphy strokes in an elegant way to create a one of a kind souvenir.
This unique souvenir is placed on colored paper, and is sure to bring back memories of your visit to Kagura.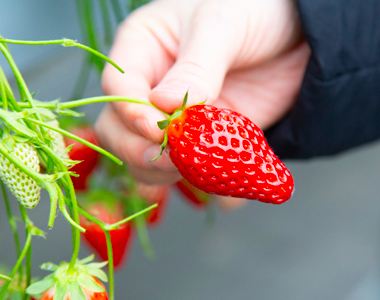 地域交流体験紹介(無料)
Get A Chance To Meet The Locals
おすすめポイント
Recommended points
地域で体験できる内容をご紹介いたします。近隣ではイチゴ狩りやブドウ狩りが有名です。また、ラーメン街道もありラーメン好きの方にはぜひ巡っていただきたいです。近所の方がよく行く蕎麦屋や居酒屋など、様々なスポットがございます。
他に、花見、乗馬、ろくろなどを体験できる場所もあります。自転車を貸し出しておりますので(有料)、田園風景を眺めながら走ることも可能です。地元ならではの景色、体験、食をお楽しみください。
Kagura is also able to introduce our guests to a number of different localities and people. Some of the interesting experiences we have to offer in this area include hunting, grape picking, cherry blossom viewing, horseback riding, soba restaurants, izakaya pubs, and a variety of ramen shops for the ramen lovers who come to stay with us.
These are just a few of things you do while visiting us, and there is even more that you can do in the area with the locals while visiting us.
We can also arrange bike rental for our guests (rental fees apply), which allows for our guests to enjoy the local feel of the areas surrounding Kagura.
Please enjoy the local atmosphere, different activities, and tastes the areas around us have to offer while staying at Kagaura.
他にも様々な体験ができます
四季に応じてその季節にだけできる体験、見られる景色も
We Also Provide A Variety Of Other Experiences
自然があふれる田舎だからこそ、体験できるものがあります。春はお花見。東金市は桜が市の花であり、八鶴湖という名所があります。地域の田んぼも苗が植わる頃です。夏は神社の祭りや蛍も見ることができます。海も近いので海水浴を楽しんだ後、渋滞に巻き込まれずゆっくりできます。秋は山の中のイチョウやブドウ狩りなど秋の味覚を楽しめ、稲穂が美しいです。冬は冷えますが光害が少ないため星が綺麗に見え、成東名産であるイチゴが大変美味しいです。
ご自身だけのお気に入りの季節、場所を見つけてください。
The natural bounties of the countryside provide a variety of different experiences for visitors. In the spring one can view the cherry blossoms, and the local area of Togane is often referred to as the, "city of cherry blossoms" which can be viewed along the shores of Lake Hakkaku. Also at this time, one can see the rice being planted in the rice paddies.

During summer there are many festivals, and at night one can see the fireflies lite up the fields. The sea is also nearby and one can go for swim and relax on the beach without having to deal with all the noise and traffic of city.

In fall one can enjoy the flavors of autumn by picking grape and ginkgo, as well as enjoy watching the farmers collect rice in the fields.
Though the winter is rather cold, the winter night skies are offer clear and breathetaking views of the night skies.
Please find your favorite season and place.

Q&A

よくあるご質問
Q.体験プログラムは何時でも受けられますか?

Can I make reservations with one of your programs at any time?

A.

日々神社の仕事があるため、恐れ入りますが神主の予定が空いている時間に限られます。
要予約でございますのでご注意ください。
Everyday I have shrine duties to attend to, so the name a program can be scheduled is dependent upon my availability.
Therefore, please take note of this when making reservations.
Q.チェックイン・アウトの時間は?

What time is check-in and check-out?

A.

チェックインは14:00~、チェックアウトは10:00とさせていただいております。
Check-in is from 2:00 p.m. and check-out is at 10:00 a.m.
Q.日本語以外の言語は対応していますか?

Are there languages other than Japanese available?

A.

翻訳機を使用しての英語対応が可能です。
English can be provided with the use of a translation device.
Q.ペットと泊まれますか?

Can my pet stay with me during my visit?

A.

申し訳ありません。ペットと一緒に泊まることはできません(盲導犬除く)。
Sorry. Unfortunately pets are not allowed at our facility (exceptions made only for seeing eye dogs).
Q.駅まで迎えに来てもらえますか?

Can arrangements be made to have someone pick me up at the station?

A.

最寄りの駅(求名、東金、成東)でしたら送迎可能です。但し、手配の都合がございますので必ず事前にご連絡ください。
If you arrive at the stations that are closest to our facility (Gumyo, Togane, Naruto), then it is possible for us to arrange to pick you up at the station. However, please know that we would need to be notified in advance to arrange such a pick up.
Q.喫煙可能ですか?

Is smoking allowed?

A.

建物内は禁煙ですが、庭でしたら喫煙可能です。
Smoking within our facility is prohibited, but smoking outside is permissible.
Q.バリアフリー対応ですか?

Is your facility wheelchair accessible?

A.

大変申し訳ありませんが未対応です。
Unfortunately at this time our facility is not wheelchair accessible.